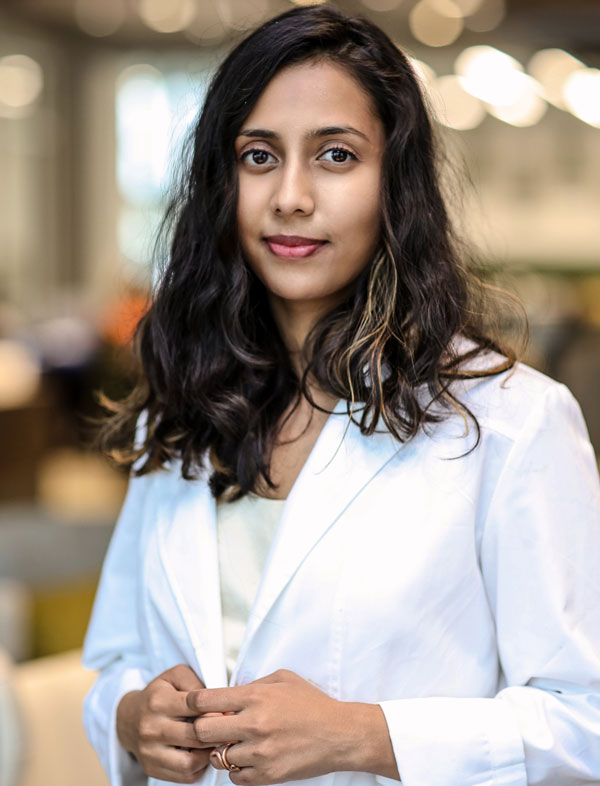 dr. Neha Chavan
FOUNDER | CEO | CHIEF SCIENTIST
Dr. Neha Chavan is a visionary, pharmaceutical scientist, international speaker, and entrepreneur by heart.
Dr. Neha invented and patented the world's first pharmaceutical-grade medicine delivery platform capable of supporting full-spectrum plant extracts such as hemp and cannabis. Her breakthrough technology, Oneness OS®, unlocks the maximum potential of hemp and cannabis by enabling the 100% solubilization of plants in water.
 Before establishing Oneness Technologies, Dr. Neha received her Ph.D. in Pharmaceutical Drug Development and worked in big pharma filing patents on novel drug delivery systems. She also served as Chief Product Officer at a cannabis-focused company where she was involved in advancing formulations, processes, product development, market research, and clinical trials. 
Since founding Oneness Technologies and serving as its CEO, she flows in creative freedom to invent plant-based medicines and to live her passion for supporting the health and well-being of humanity.
ALEX BLANTON
CO-FOUNDER | COO | BUSINESS STRATEGIST
Alex Blanton is a top-strategy thought leader, lifelong entrepreneur, and serves as the COO of Oneness Technologies. His deep commitment to bringing balance and well-being to humanity is what drives his entrepreneurial spirit to make Oneness Technologies a successful and legendary company in the plant-based industry.
Alex began working in the hedge fund space in New York at 19 while attending New York University's Stern School of Business. He then ventured to Silicon Valley to work at LinkedIn through the Microsoft acquisition and subsequently worked at startups in the AI space where he specialized in commercializing novel technologies. It was during this time Alex developed a passion for health and well-being. Committed to personal growth and transformation, he put his business dreams and endeavors on hold and spent two years traveling and studying traditional plant-based medicine with native American shamans in South America and training in classical yoga and meditation at an ashram in India.
At Oneness Technologies, Alex is committed to shaking up the industry for the mutual benefit of consumers, corporations, and the planet.
Professional & Medical
Executive team
Shailesh Chavan
President, Therapeutics
Glenn Powers
Director, Quality
Dr. Anthony Sabatelli
Counsel
Dr. Brian Pattengale
Counsel
Dr. Mac Jawadekar
Scientific Advisor
Dr. Maclain Blanton
Medical Sales
Eastern Spirituality
Ancient Holistic Medicine
& Spiritual Science
Oneness Technologies is backed and advised by the monks of Siddhayatan Tirth. Upholding the knowledge and practices of ancient holistic eastern medicine and spiritual science, the monks encourage natural and plant-based medicine and herbal treatment for physical balance and well-being. Their tradition believes that when there is less pain in the body, spirituality can be experienced. The team is comprised of HH Acharya Shree Yogeesh, Sadhvi Siddhali Shree, and Sadhvi Anubhuti.
The modern monks are known for their powerful storytelling and revolutionary approaches to raising awareness about human and animal rights issues.
Oneness Technologies is a proud film partner on their latest Academy-qualifying film Surviving Sex Trafficking and supports their non-profit Stopping Traffic. Their work has been featured on Good Morning America, CNN, LA Times, NY Post, Deadline Hollywood, and the Associated Press.
+1 615 512 1301
info@onenesstech.com


615-512-1301



alex@onenesstech.com



Tampa, FL
Distribution Opportunities
Discover Oneness Technologies' opportunities to partner and distribute our advanced and sophisticated plant-based technology.
OUR KEY ADVANTAGE
Oneness is a Pharmaceutical company developing a series of plant-derived therapeutics for FDA approval. Oneness offers our phase-shift drug delivery platform, Oneness OS®, to consumer hemp and cannabis companies which enables full-spectrum 100% water-soluble finished products.